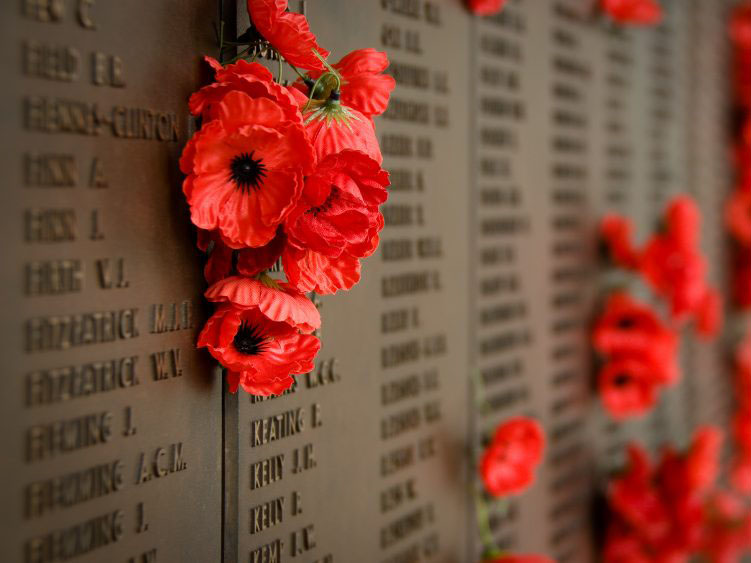 Remembrance Day
As time passes I'm becoming more acutely aware of the toll war takes on soldiers and their families and feel more moved than ever before by the simple practice of 'remembering' – 'lest we forget' – the toll of war.
To me this remembering, ritualised in our tradition of ANZAC and REMEMBRANCE DAY services – is serving as days of healing for many Australians, as we mourn for those that have died in battle, while at the same time remember our indebtedness to the highest expression of human capacity that is inextricably linked to that loss – courage, service and our ability to put someone else's needs before our own – in other words our ability to love.
This linking, of the ability to love to the toll of war, is expressed beautifully in the Melbourne War Memorial where there is a plaque at the centre of the floor which reads: "There is no greater LOVE than that one should sacrifice their life for another". At regular intervals, a ray of light shines upon that inscription, singling out in my perception (during attendance at a Remembrance Day service) the word LOVE.
What makes noble a soldier's actions in joining-in and participating in war springs from that one single motivation: to express love for their nation, community, family, friends, for the weak, the oppressed, for values such as freedom.
We must thank all those who have kept alive the tradition of the Remembrance services – for in remembering and honouring those that have paid the ultimate price of war (102000 Australian have died since the 1st WW) we are reminded that wars occur and prompted to think about our perspective on the issue of the causes of war and our role in the same.
In my understanding the cause of war can be traced to two human motivations:
Greed – seeking of more – be it power, money, land, or other resources – for oneself;
Anger – expression of frustration of ones needs, sense of entitlement and resulting perception of unfairness/injustice;
These motivations represent that which is base, brutish and ignoble within our human capacities.
How do we remember in our day to day lives that while both nobility and ignobility is inherent in our human nature we have the capacity to determine their development through how we think and act – and our need to be vigilant about restraining the negative tendencies within our nature that constantly pose a threat to our freedom to express and experience our positive, most highest state of wellbeing i.e. love?
Increasing self-awareness and developing greater mastery over oneself is the way. Simultaneously, becoming mindful that our lowest capacities (greed and anger) are not nurtured and given scope for expression, but instead that which is our highest expression of human ability namely, the ability to love is constantly exercised.
It is by keeping an eye on our greed and anger levels – if we find ourselves wanting more than we need; wanting what others have; feeling jealous; irritated frustrated angry, raging mad – that we can recognise ourselves to have become a potential source of battle /war within the community that we live, within our families and workplaces.
Let us not leave the job of protecting our land – our home, workplace, environment, family, friends, and community – onto the shoulders of a few soldiers within our society. Let each of us share that responsibility.
It is from the actions and doings of individuals, that the wars great and small in history began and were sustained. May we keep reminding ourselves of that which is the highest in our nature – our ability to love; and of our responsibility to nurture that ability in ourselves and in others –
LEST WE FORGET!